We create

Safe Environments

.

Our talented team of security professionals with years of experience is here to do just that: keep your environment secure.

Contact
Security and Risk Management Services
The unique places where you work, live and play should allow you to be the best version of yourself. That's why we believe in "creating secure environments."
We are specialist provider in risk analysis and management and international security services. We support companies in critical contexts.
Kriptia International is a benefit company, because we all believe that business must be ethical, fair, and honest. We believe that part of the profit should be reinvested in social work to help create a better world.
Crime Observatory in the Corporate World
Kriptia International as a benefit company undertakes to formalize its contribution to society and its objectives, communicating them transparently to its stakeholders.
Precisely for this reason, Kriptia International has created a Permanent Observatory with the aim of analyzing the criminal phenomena present on the national and foreign territory that impact on the corporate world.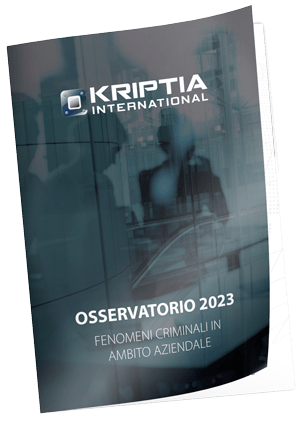 Watch and consult the reports available for free on criminal phenomena in the corporate sphere:
In Kriptia International we offer to our clients, different types of services in the field of security, supported by highly qualified personnel and an international network.
Fill in the fields to receive a free check-up, or if you simply want to contact us.
Free Checkup of Your Needs
Our assessment and the relative summary document of the improvements to be implemented is free and non-binding.